HELLO, <insert name here> !
You may have fought against me on multiple different profiles in multiple games. My console (XBox) profile's name is Boogie Pants#812 (currently) and my computer EA account is SCRAM737. On console I've played GW1, GW2, and BFN (Started each of these games on their release dates) on PC, just GW2. I've also played PvZ1 on IPad and on a Nintendo 3DS respectively, and also PvZ2 and Heroes on IPad. I finished out PvZ1, didn't do much on PvZ2 after Battlez were introduced, and haven't really played Heroes in a long time.
BTW, In case we meet in War Thunder, this is probs what I'll be doing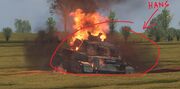 <<<-----------
My Mini Bio (Shooters)
Starting in GW1 (When I was 6) I sucked for the first few months of it's release. Around the time Main Street was introduced however, I started to become a fearsome player. I consistently pulled off brilliant games, especially with Camo Cactus, Camo Ranger, and Tank Commander. I bought GW2 in pre-release, getting an LTD edition pre-packaged with Deluxe, and it also came with some IRL wall-clings which I still own today. As of rn I am a little over a rankplate of 31. My most-played are Toxic Pea, Camo Ranger, and Super Brainz. I bought Founder's Edition BFN less than a week after it was put on sale, and got all 4 week's worth of content from it on XBox. I have about 75% of prize maps filled out, and my in-game rank is over 1300. I own all characters except for Wildflower :( I was unhappy when the game was discontinued, and even more so with the horribly greedy choices EA has made with the game since. I still play all 3 of these games, especially GW2 on my PC. Maybe pop by my EA account and say hi?
== My Fanon-Game Staff Badges ==
This is a long section. Click show or hide at the right of this template to display or hide it.
My Pins
My Opinions on Peeps
E v e r y S t a f f: I mean they kinda are this Wiki's backbone and all. :P
Rugby Zombie: Makes nice stuff, generally seems like a cool guy. (Just don't mention Fred)
Verg: Seems cool nuff, and I help him with projects, but seems to be in the bad graces of quite a few chaps here.
Chiwykun: Has a goal to make the whole wiki hate him, one CONEHEAD post at a time. 😅
Sani: Sani is yes!
Some Stuff I Picked Up Off The Street
This is a long section. Click show or hide at the right of this template to display or hide it.
You are a Crane Zombie, veteran Bungee Zombie! Nice!

You have been teleported by the masters of teleportation.
Oi, you still here then? Welp, there's more here.
Community content is available under
CC-BY-SA
unless otherwise noted.