Sundrops is a single-use premium plant in Plants vs. Zombies 2 that can be purchased in the store for $4.99.
When planted, Sundrops will increase an amount of sun falling by adding extra 25 sun (total 75 sun/falling sun) for 60 minutes. The former's effect can be stacked if the player imitates it.
There's 5% chance will cause an occassional mass-sun drop (250 sun falling) after using Sundrops.
Origins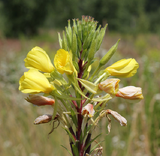 She is based on the sundrops (Oenothera), the species of herbaceous flowering plants native to the Americas
Almanac entry
"You take the Sun and you take the Moon." says Sundrops "So, I want to take the Moon"
Strategies
Sundrops is a very useful plant in many levels. The extra sun falling from the sky can help you build your defense much earlier. Combining her with Imitater can make 100 sun falling from the sky.
Sundrops is useful in Dark Ages as Sundrops allows the sun to fall during nighttime in 60 seconds/
However, avoid using Sundrops as the only sun-producing plant because the sun falling from the sky will be the player's only way of getting the sun while the player has to wait Sundrops' recharge.
Trivia
She cannot be instant recharged due to her stacking ability and low cost.

However, she can still be imitated

Her Almanac entry is similar to Sun-shroom's almanac from original game, but without "He just won't abide it"
The maximum amount of extra sun the player can get via Sundrops' ability is 150 sun.
Gallery
*Created with Asterplant, check him out, he does some wicked stuff.