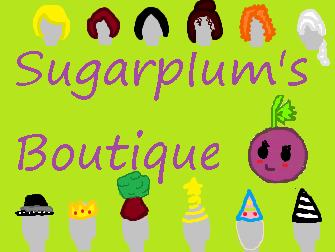 Sugarplum's Boutique is a shop owned by 
Sugarplum
. She has a huge business here, selling wigs and hats or in simple terms, headwear.
The shop makes it's debut in Plants vs. Zombies: Random Rebellion. A wig/hat can be bought at the store for gems, and also can have amazing effects on plants!
Trivia
Sugarplum smiles in the logo.

She is also the first plant to own a shop.

Wigs and hats can give various effects to the plants.
Although Sugarplum is a female, she models the male's wigs and hats, too.
Wigs and Hats
This is the headwear sold in Sugarplum's Boutique! These wigs and hats are made Sugarplum herself!
Note: All the wigs have their boy and girl counterparts. Each counterpart is sold together. Any wigs or hats bought are for the current profile only. Once a wig or hat is bought, it can be used on multiple plants at once.