Soldier Zombie

Created by Zomplant Jelo

Type:

Zombie

Health:

200 normal damage shots

Toughness:

Extremely high

Speed:

Fast

Weakness:
Is very dangerous because of its health and speed.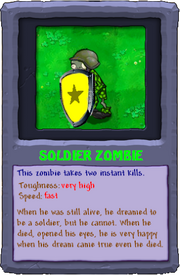 Health
Absorbs 200 normal damage shots. Appearance changes upon absorption of 45, 65, 100 (When the shield is destroyed), 130, 160, 190 (When the helmet is destroyed) and 195 normal damage shots.
Strategy
This zombie needs three instant kills before being killed. A Twin Magnet and an offensive plant is enough to kill this zombie. You can also use lobbed shots plants or fume-shooters but it is not sufficient enough to kill it. Soldier Zombie Was Killed by Heaven Dragon!