This project is hiring. If you want in, comment below or shoot a request to
Omega138's
wall!
"
We are a part of this together and we will never give up on this quest.
"

–Sunflower in PvZ: E
Plants vs Zombies: Expedition is a 2022 game made by Pop Cap and EA.
Synopsis
The plants were just chilling in Crazy Dave's place until an unexpected night. Some humanoid like figures try to kidnap the plants and succeeded. This only left Sunflower and Peashooter and unexpectedly Cactus. These 3 plants need to save their friends.
Story
OH NO!! THIS WILL BE REVEALED!!!
This has spoilers for the main story. As if you excuse me I should calm down the plants.
The zombies have kidnapped Crazy Dave and the plants leaving Cactus, Sunflower, and Peashooter. As they go on this treterous adventure, they will find new threats and familliar friends and foes. Our first major plot point is after the Winter-Mint boss fight and save Crazy Dave. As he is very weakened that he remembers that a shadow was draining Winter-Mint's power and an explosion happened causing him to become berserk. As they fought Royal Hypno Flower commanded by Mr. Stubbins, They realized that it was Popstar Sunflower (The Sunflower who sang Zombies on Your Lawn.) And Royal Hypno Flower was just a vessel. A pink liquid fell on the floor. When Peashooter touched it he got berserk. Then he snapped out it. Then when the plants find the homebase. The Z-Mech Imp said that he trapped the Power-Mints and then drained their power to oblitherate the plants, then the machine short circuited and then the Mints were berserk. As said by Mo-Mint, he said that once upon a time, a ruler of Power-Mints ruled the land at the edge of the end of the Jurrasic Marsh period. The mint was so powerful that it caused trouble around the land. Then the Elite Mints Confederacy (Consisting of Mo-Mint, Conceal-Mint, Enchant-Mint, and Contain-Mint) sealed the mint away to the edge of the universe. After a battle with Zomboss. He tries to use the Power-Mints power then ending up short circuiting the machine. But in the True Ending, this awakens the Ulti-Mint, the one who was banished to the edge of the universe. After his berserk rampage he was then defeated. And then turned into a simple seed. And the quest was over. The trio was praised by many and even getting a news article on the Neighborville Post. This is where the story ends.
Gameplay
The same tower defense formula but you are able to choose separate attacks for plants via Pokemon-Esque Menu. This can formulate other strategies for you to use. This has a simillar gameplay to All-Stars. Plant Food also makes a return.
Icons
PC
IOS
Plants
Plants vs Zombies: Expedition/Plants
Enemies
Plants vs Zombies: Expedition/Enemies
Worlds
World Name
Hiding Space of
Plants Unlocked
Special Features
The Neighborville Streets
Appease-Mint
Peashooter, Sunflower, Cactus, Wall-Nut. Bloomerang, Reapeater
Tunneling Caverns
Conceal-Mint
Sod,Cherry Bomb, Moonflower, Night Shade, Shadow Peashooter, Shadow-Shroom, Plantern, Puff-Shroom, Sun-Shroom,
Dimmed Lawn

No Sun Drops

Rocky Terrain

Aether Castle
Enchant-Mint
Magnet-Shroom, Fume-Shroom, Spiked Star Vine, Pea Nut, Ice Shroom, Hypno Shroom, Witch Hazel, Ghost Pepper.
Sunshine Beach
Enlighten-Mint
Lily Pad, Tangle Kelp Twin Sunflower, Seashooter, Bananasaurus Rex, Banana Launcher, Cabbage Pult, Pop Kernel Pult, Pepper Pult, Threepeater
Water Tiles

Low and High Tides

Undersea Palace
Submerge-Mint
Oxy-Kelp, Starfruit, Charcoral, Cattail, Potion Pult, Venus Flytrap, Aloe, Lighthouse Lazer, Goo Peashooter, Guacodile, Sea Pickle, Hydro-Shroom
Oxygen Gauges
Icy Coves
Winter-Mint
Jalapeno, Hot Potato, Torchwood, Fire Peashooter. Grimrose, Rafflesia, Garlic, Snow Pea
Icy Winds,

Slider Tiles

Suburbian District
Reinforce Mint
Narccicus, Cob Cannon, Gloom Shroom, Melon Pult ,Winter Melon, Beeshooter, Gatling Pea, Tall Nut, Aspearigus, Potato Mine, Scaredy-Shroom, Grave Buster, Spikeweed, Spikerock, Popstar Sunflower.
Poison Graves
Plantiful Forest
Spear-Mint
Toadstool, Jackfruit, Red Stinger, Lightning Reed, Spore-Shroom, Zorrose, Bonk Choy, Chomper, Dusk Lobber, Pineneedle
Zombie Defensed Homebase
Fila-Mint
A.K.E.E., Ultomato, Morning DJ GLORY DAYZ, Thyme Warp, Fire Gourd, Pokra, EM Peach, Rock Pea, Mo-Mint
Robots
Sky Battle
Altitude-Mint (Prototype Name)
Unidentified Flying Gourd, Rotobaga, Metal Petal, Dazey Chain, Horse Bean Pod, R.A.D Missiles, Carrotilery. Homing Thistle, (Secret Ending only) Ulti-Mint
Airborne Zombies, Limited Amount of Tiles
Modes/Brain Busters
Adventure: The main story. Go on a quest to save plants and fend off the undead.
Mini-Games: A twist to the formula.
Arena Battle: Basically took from PvZ 2. Gain more points than your opponent.
Endless Zone: A cyberspace of upcoming onslaughts of zombies. How many can you survive?
Zen Garden: Let's tone it down a bit and grow your garden big and strong.
Zen Garden Warfare: Freshly-picked levels to help gain more strike energy for your plants to gain a plant-food boost whenever it's planted
Quests: Get rewards from goals
Epic Quests: Gain a new plant or some other reward from fresh new levels
MakerSpace: Create custom levels, show them to the world
Brain Busters
(Bolded means world exclusive)
Special Delivery: A conveyor belt gives you plants and survive an attack
Locked and Loaded: Survive the attack with the pre-chosen plants.
Save Our Seeds:Protect the endangered plants from getting killed
Last Stand: Plan a defense before the zombies attack.
Wall-Nut Bowling: Exclusive to Neighborville Streets Use Wall-Nuts as bowling balls to survive an attack
Sod Strike: Exclusive to Tunneling Carverns. Zombies are on a path. Plant on Sods to attack the upcoming wave
Magnet Attack: Exclusive to Aether Castle. Use a Magnet-Shroom to attract metal objects. Quickly swipe to the right side of your screen or quickly move your mouse to the left while left clicking to whack it in their faces.
Best Botanics: Exclusive to Sunshine Beach. Match the same kind of colored ball the more times it attacks zombies.
Aqua Plow: Exclusive to Undersea Palace. Use a Seashooter to shoot multiple zombies and earn points gain a set amount of points to beat a flag.
Bonk Choy's Rhythm Smash: Exclusive to Plantiful Forest. A set song will play and you need to tap the Bonk Choy at the same time with the rhythm.
Unsodded: Exclusive to Sky Battle. A 7x3 platform will appear. and zombies will appear in those 3 rows. plan your defense to deal with the limitations.
Air Raid: Exclusive to Sky Battle. Use your finger or mouse to move the Gatling Pea in it's plane to fight airborne threats
Boss Rush: Exclusive to some Epic Quests. This will have 3 trunkaded versions of bosses asides from the Ulti-Mint. These bosses will go all out on you and shows no mercy to you.
Skill Tree
All plants have their own skill tree. The skills can be set in 5 categories (Fire Rate Boost, DPS Boost, Special Boost, Defense Boost, and Miscellaneous) The skill nodes can be disabled and enabled anytime. 5 nodes can be enabled at a time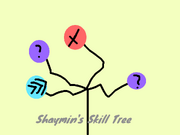 Costume Scouting
Costume Scouting is a luck based way to get costumes. These costumes are set into 5 rarities, Tier 1, Tier 2, Tier 3, Tier 4 and Tier 5. These tiers have boost to give to plants equivilent to Plant levels in PvZ 2. Scouting has a price. 10 Gems to scout once and 50 Gems to scout 11 times
Code
EX: Tier (N) - (Has same power as) (Plant Level)
Tier 1 - Level 1
Tier 2 - Level 2
Tier 3 - Level 3
Tier 4 - Level 4
Tier 5 - Level 5
| Name | Plant | Costumed Appearance | Tier |
| --- | --- | --- | --- |
| Magishroom | | | |
| | | | |
| | | | |
Suggestions
 (Free-Edit Section)
Abilities
Team-up - Fit multiple plants here.
Credits
Death Cap - Nuttin' to see here
Popsicle Stick - CompliensCreator00
Sea Pickle, Seashooter, Lily of the Jelly - Boston Pineapple/Asterplant
Spiked Star Vine: Reapeageddon
Soundtrack
Trivia
This game along with Plants vs. Zombies 3 are the only games where the plants can speak
The game had high inspiration from the fan series PvZ Garden Kombat. This is the origin of Hypno Shroom without hypnotic eyes and Ghost Pepper without her cloth.
The attack "FREEZE HEATBALL" is a reference to a line that Cold Snapdragon said in Luigifan00001's PvZ Plush series
The scouting mechanic is based on the same scouting mechanic from Love Live School Idol Festival
Fun List's fan series is now canon to PvZ due to Rock Pea being a pivotal plot point.
Ultomato's move is a reference to a certain Skyrim Meme (Fus Ro Dah).
The drone is simillar to the drone in Minecraft vs Zombies 2.
The Achievements Gallery is a reference to Plants vs. Zombies: Official Guide to Protecting your Brains. The reference is the gallery is a reference to the sidewalk gallery. This is where Crazy Dave puts his possesions that he picked up on the street.
In one of the Zombie Defensed Homebase cutscenes you'll see an employee of the month picture of Head Zombie from Luigifan0001's PvZ Plush Series.
EMB6 watches Luigifan0001.
As such Plantoid Moves are powered by Plantoid Z. A reference to Luigifan00001's PvZ plush
The Expedition Squad
Add your name here if you've been hired by Omega138!
Gallery
Community content is available under
CC-BY-SA
unless otherwise noted.