Pea Bomb

Created by Zomplant Jelo

Type:

Plant

Cost:

5000

Upgrade:

Yes(Peashooter)

Health:

6 normal damage bites

Damage:

20

Range:

Very Long / 3x3 radius (explosion)

Firing Speed:

5 seconds
Shoots exploding peas to zombies around the pea.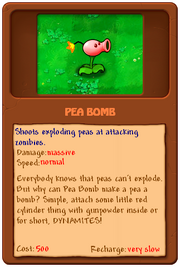 Usage
Absorbs 6 normal damage bites.
Each pea has a ability to bombing and has a diameter of 3 (area of 3x3)
It is very powerful that it can defeat Gargantuars, Shield Zombies and Vehicle Zombies easily.