(Adding categories)

 

(One intermediate revision by the same user not shown)
Line 35:
Line 35:
 
 
 
 
 
+
 
+
 
+
 
+

<br />

 

== Almanac Entry ==

 

== Almanac Entry ==

 

{{Almanac2New

 

{{Almanac2New

Line 45:
Line 49:
 

{{Almanac2New/Second Bar|color=light|?1=Range|?1cap=RANGE|input1= Lobbed/3x3|?2=Plant Food Power|?2cap=PLANT FOOD POWER|input2= Coconut Crack!}}

 

{{Almanac2New/Second Bar|color=light|?1=Range|?1cap=RANGE|input1= Lobbed/3x3|?2=Plant Food Power|?2cap=PLANT FOOD POWER|input2= Coconut Crack!}}

 

Palmlings lob a coconut explosive into a spot in their lane and then die.

 

Palmlings lob a coconut explosive into a spot in their lane and then die.

−

|description = Special: <font color="red">C</font><br><br>Add your flavor text here!

+

|description = Special: <font color="red"></font><br><br> !

 

}}

 

}}

 
+
 
+

== Upgrades ==

 
+
 
+

=== Plant Food effect ===

 
+

When fed with plant food, Palmling will fling a massive coconut that blows up in a 5x5 radius, dealing 4000 damage.

 
+
 
+

=== Boosted by Bombard-mint ===

 
+

When boosted by Bombard-mint, Palmling will deal 200% damage and fling three coconuts.

 
+
 
+

== Strategies ==

 
+

Palmling is the mixture of a Cabbage-pult and a Coconut Launcher. Placing him behind other plants or behind Wall-nuts, Pumpkins and even Chard Guards, because the stopped zombies will be prioritized by Palmling.

 
+
 
+

== Gallery ==

 
+

w.i.p.

 
+
 
+

== Trivia ==

 
+
 
+

* Originally a plant that cleared the whole board but costed 700 sun, that was scrapped and also a stupid idea.

 
+

[[Category:Orthodontist Zombie's Stuff]]
---
Latest revision as of 00:41, 18 May 2021
This page is by Orthodontist Zombie. Please don't edit this page without his permission.
Palmling is a plant in Plants vs. Zombies 2, and is unlocked by beating Day 16 of Mesopotamian Riverside. Palmling is a single use plant that lobs a coconut-shaped bomb at a group of zombies, or the most threatening, depending on the number of zombies in a lane.
Origins
Palmling is based on the Cocos nucifera, or coconut palm tree. The coconut being a bomb is a reference to the Wii game Kirby's Return to Dream Land.The coconut bomb can be found here.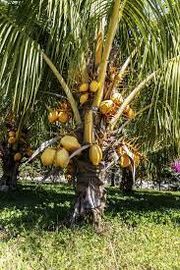 Almanac Entry
Palmling

Palmlings lob a coconut explosive into a spot in their lane and then die.

Special: Tosses a coconut bomb which blows up in a 3x3 radius

Fling! Fling!"I'm Palmling, but I call myself Palm Fling!" Palmling exclaims. I now have to explain that he tosses coconuts, not flinging them.

[[File:.|center|198px]]
Upgrades
Plant Food effect
When fed with plant food, Palmling will fling a massive coconut that blows up in a 5x5 radius, dealing 4000 damage.
Boosted by Bombard-mint
When boosted by Bombard-mint, Palmling will deal 200% damage and fling three coconuts.
Strategies
Palmling is the mixture of a Cabbage-pult and a Coconut Launcher. Placing him behind other plants or behind Wall-nuts, Pumpkins and even Chard Guards, because the stopped zombies will be prioritized by Palmling.
Gallery
w.i.p.
Trivia
Originally a plant that cleared the whole board but costed 700 sun, that was scrapped and also a stupid idea.
Community content is available under
CC-BY-SA
unless otherwise noted.