Chomper Zombie

Created by Zomplant Jelo

Type:

Hybrid

Health:

20 normal damage shots

Toughness:

Medium

Speed:

Fast
Eats your plant and stops while eating. The chewing time only takes 5 seconds.
Health
Absorbs 20 normal damage shots. Appearance changes upon absorption of 10 normal damage shots.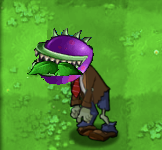 Strategy
Some plants like Potato Mine, Puff-shroom, Sun-shroom, Spikeweed, Spikerock, etc. cannot be eaten. Use an instant kill or put a cheap and fast recharging plant in front of him so your other plants will have more time to attack it.